Though she didn't start her job until last July 1, Wayland Union Schools Supt. Dr. Christina Hinds will undergo her first annual performance evaluation by the school board soon.
Board members and the superintendent began discussions on procedures and plans with the understanding that the district has been operating under highly unusual conditions over the past 11 months.
Dr. Hinds herself noted, for example, it is difficult to evaluate her on the category of community visibility because the Coronavirus pandemic has limited severely her opportunities to be seen in and interact with the public.
With an optimistic view of better days ahead, the superintendent said, "I hope we aren't just doing emergency management," noting most of her time at Wayland thus far has been spent dealing with Covid-19 and working on reopening schools safely.
All schools in the district have returned to in-person classroom instruction Monday through Friday, but only three days have passed because of winter break and a snow day.
Hinds said faculty members are preparing for their second vaccines early next month, which will take away much of the worry of teachers working in the classrooms.
"We're moving along, and that's great news," she told board members.
However, she acknowledged that resumption of school full time has created some challenges, such as traffic congestion and overcrowded lunchroom cafeterias, particularly at the middle school.
Patricia Velie, assistant superintendent for finances and operations, said discussions on handling the cafeteria issue will be held soon.
In other business Monday evening, the Board of Education:
Received a comprehensive presentation from Food Service Director Scott Larson about the meals programs over the past year in the wake of Covid challenges.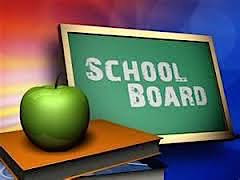 Larson said about 62,000 lunches and breakfasts were served by the district since March 13, when it was shuttered by the pandemic and has been in session only on a hybrid basis until last week. He added that Wayland schools provided about 28,000 free meals over the summer months and 81,000 breakfasts and about 145,000 since school started in late August.
"We've lost a lot of a la carte (foot items) such as pop and chips because we just didn't have that stuff," he said.
But because of grants and some government assistance, the food service was able to buy a new food truck and new cooler and freezers.
"We're down a little bit (in revenue), but I think we're going to recover," Larson said.
He added that he anticipates the food truck to continue the free meals program at a variety of sites over the summer.
Board Trustee Janel Hott said she took part in the distributions last summer and praised Larson and his crew for working like "well-oiled machine."
Agreed to allow Dorr Elementary to install a walking and running track on its playground, much like the one now in use at Baker Elementary.
Adopted a resolution encouraging the state to permit school board in-person meetings as early as April. State regulations insist all such public meetings be held virtually, at least until the end of March.
"This sends a mixed message to our community," Hinds said, "that we can send the kids to school, but not have in-person meetings."
Hott added, "It's not that we don't want to (have in-person meetings), it's that we can't."
Approved purchases of projectors and technology equipment from Tierney and Precision Data Projects.
Approved renewing the contract with Spectrum Health for an athletic trainer at a cost of $20,600 a year.
Agreed to spend almost $52,000 for new furniture at Pine Street Elementary and about $19,000 on 17 cafeteria tables at Dorr Elementary.