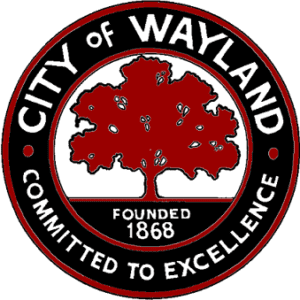 Wayland City Council members appear to be between a rock and a hard place on an issue that's probably near and dear to the hearts of many residents — sidewalk snowplowing.
Council received a report and recommendation from the Budget Committee that suggested the city drop the service because it cannot afford it any more.
City Manager Josh Eggleston said, "The (23-year-old) plow we have right now is done" and he estimated it would cost at least $150,000 to replace it, money the city just doesn't have.
Eggleston said things are bad enough economically in attempting to fix and pave Park Street, which he said will cost $6.3 million.
"We don't have a long-term capital improvement plan," he said. "It means we can't fund other projects, either. We have to come up with another way to fund that blow because our budget won't handle it."
He suggested the capital improvement fund is "about $4 million underfunded."
The city manager said Wayland is not alone with this problem. Many other municipalities are facing similar problems.
"So the question is, are we going to continue to do our sidewalks, or are we going to do roads?"
He noted the city probably has about $280,000 coming in for revenue sharing, but that amount is inadequate to fund a multi-million dollar road project that's been delayed already.
Mayor Tim Bala insisted the sidewalk plowing program is valuable as a matter of health, safety and welfare and proposed the city could delay purchase of a police cruiser or make cuts elsewhere.
Kelli Tobolic, former Planning Commission member, appeared as a citizen to protest elimination of sidewalk plowing.
"It that's something (a service) you're removing, we were told that's something you guys would always take care of. Our taxes are high, but we're told we get a lot of services."
She told the council she lives on Locust Street and agreed to pay part of the installation cost of a sidewalk there because of the understanding city crews would plow them.
"And now you're going to take it away," she said. "I think you'll get a lot of pushback on this."
Council members did not make a decision on the proposal Monday night and vowed to take it up again at their next meeting Monday evening, June 21.
Eggleston said council could leave the expense out of the 2021-22 budget and reinstate it if necessary with a budget amendment in the fall.
"If you suspend the service, you have to have a heard deadline for the residents," he added.
In other business at Monday's meeting, the council:
Agreed to pay A-1 Asphalt $62,575 for paving repairs near the intersection of Reno Drive and West Superior, in front of United Bank.
Adopted a resolution supporting rezoning for a proposed residential project at 915 and 921 133rd Ave. from R-A agricultural to R-1 residential.
Noted that about five City of Wayland representatives will tour a marijuana business facility in West Michigan from 8 a.m. to 3 p.m. ahead of making a decision about permitting such a facility in Wayland.
Learned from Police Chief Mark Garnsey that the department is looking into prospects for a community block party to help neighbors get to know their neighbors later this summer.