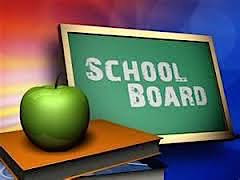 September has not been kind to the Wayland Union school district, as Board of Education members Monday night lamented some troubling recent student incidents and continuing battles with the Coronavirus.
In the past two weeks there have been reports of violence and of rowdy and "disgusting" behavior, enough to prompt two board closed special meetings for discipline. In one instance, three boys ambushed another high school student in an assault, though the victim's father had nothing but praise for the way Wayland officials handled it.
Board Vice President Peter Zondervan told colleagues, "I was talking to Mr. (High School Principal Tom) Cutler and he said, 'Yes, this is not normal'."
Meanwhile, the board is grappling with yet more changes in recommendations from the Allegan County Health Department about handling Covid-19. County health officials now are calling for more Covid testing and masking rather than quarantining students at home.
Superintendent Dr. Christina Hinds said she's not interested in school staff providing tests, but welcomes county health officials to test and monitor students suspected of having Covid.
The board earlier this month voted against adopting Health Department recommendations to have all students mask up, not just the more vulnerable unvaccinated children in grades K-6.
Yet Hinds reported Monday night, "Our (Covid) numbers are higher than anyone else in the county… Our vaccination rate is pretty low."
But Dr. Hinds and the board said they're not willing to use local staff and pay for testing on site each weekday for two hours and instead insist that the County Health Department manage any testing program.
Covid already has cost Wayland Union a lot of money over the last couple of years. Assistant Superintendent for Finance and Operations Patricia Velie said state aid beginning next month will provide more than $8700 per student, but Wayland has lost 152.7 since a year ago.
When asked who benefits from transfers, Velie replied, "We do know one private district is up 100 students."
Hinds immediately chimed in, "But they have to follow the same rules (about Covid) as we do."
Velie also said the district doing everything it can to recruit bus drivers, for which there is a serious shortage.
"We've hit every avenue we can," she said. "We just can't get anybody interested."
In other business at Monday night's work session, the board:
Agreed to a total 3.5% pay increase for the non-unionized secretaries, plus make optional taking a day off the Wednesday before Thanksgiving.
Noted the district gained a little over $20,000 at its annual auctions and praised the auction manager, CIS.
Received comments from several local parents insisting masks don't save children's lives and actually cause them problems, besides taking away parental control.